David Hoy & Associates (DH&A) has a commitment to provide great therapeutic care to kids and families! Our dedication to training interns to be the best therapists they can be, is demonstration of this commitment.
Our intern program has been put together with great intention. The team structure allows for more collaboration, support, and educational opportunities. The progression of learning ensures all interns are prepared for every step they take in their role as a therapist. These two guiding concepts of our intern program work to ensure our purpose to provide experience and opportunities, which are beneficial to all parties.
The internship program is open to students finishing a Master's level degree in a counseling field. The interns help DH&A stay connected to the academic information guiding the work of therapy, while our experienced therapists and supervisors support the interns in learning the art of applying the research into a relational practice.
Intern Program Structure
Our interns are paid for their time with clients.
Intentional focus on teaching, training, and developing into a great clinician.
Structured progression from learning necessary client paperwork & policies, to shadowing David Hoy Associates working with clients & families, and finally carrying own caseload of clients.
Team & Cohort groups of 2-6 interns start three times per year (January, May, & September) with at least a 9-month and 20 hours per week commitment.
Intern teams overlap with 6+ interns total at any one time.
Regular, consistent and highly supportive individual supervision.
Weekly intern team meetings facilitated by intern team clinical supervisors.
Learn through demonstrating techniques & activities to use with clients & families.
Space to discuss questions & concerns regarding client care.
Connection, collaboration, and support between interns.
Interns have the ability to make choices about their own schedules and caseloads.
As an advanced intern team, we will collectively educate, encourage, and support one another toward advancing our individual skills for therapeutic intervention.
Please help welcoming our May 2023 interns! Katie, Stacy, Jay and Cassidy (left to right, upper and lower)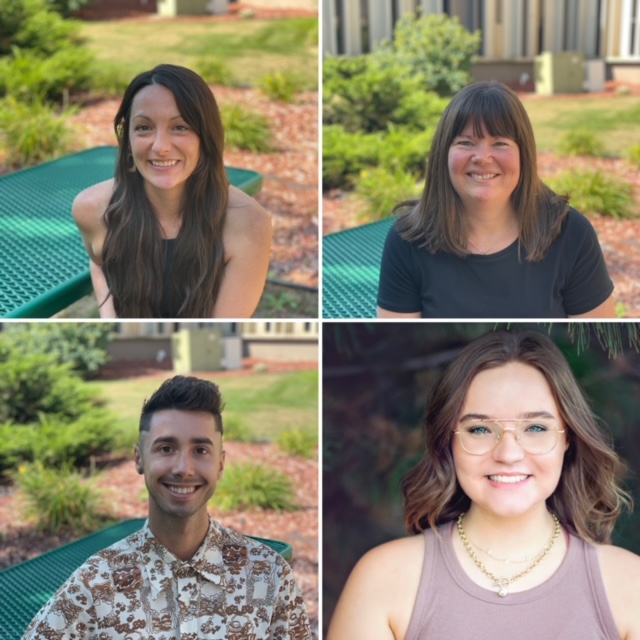 ---
Intern Supervisors and Team Leaders:
Kristina Boylan VanHauer, MA LMFT
Clara Buxton, MA LMFT
To apply for our internship program you can fill out the online application, or e-mail your Cover Letter and Resume to kristina@davidhoy.com, make sure to indicate when you would like your internship to begin.