Tips To Improve Your Telemedicine Experience
So, the Governor said we should stay home as much as possible.  This is very difficult for some, and downright untenable for others!  You may find yourself needing someone to talk with about your stress level, anxious, and/or depressed feelings.  We can help.  We have therapists ready and waiting to provide you with quality therapeutic services through Telemedicine. I know that you said you didn't want to bother with it – that you'd rather wait until you could meet with someone in person.  But it's been 8 months and it's getting more and more difficult to be patient with the kids or manage the stress…so why not give it a try?  What have you got to lose?  Here are a few things to know to make the most of your Telemedicine session.  Choppy video can be frustrating during a video call. Here are some tips for all participants in a call that can improve the quality of your Telemedicine experience:
Restart your computer before a call. Other applications might be using computer power or have access to your camera or microphone. Restarting your computer will ensure your computer is ready for video.
Use fast Internet with an ethernet cable. Video quality changes with Internet speed, so the faster your connection, the better the quality of your video will be.
Use a newer computer with plenty of processing speed. Sending and receiving video takes a lot of computer power. Old or slow computers will have a harder time processing the video, which can cause choppiness.
Use low resolution. If you are experiencing poor quality, try lowering the resolution. Using LD or SD requires less bandwidth and computer power than using HD, which will mean less choppiness during your call.
Use headphones. Your computer will usually automatically eliminate echo or audio feedback so you don't hear yourself talking. But if it happens, both you and other participants in the call using headphones should solve the problem.
Use a private room. Be sure to go to a space in your house where you can be alone. You may need to get creative to do this.  Some people have sessions in their laundry rooms or cars.
Minimize any distractions. If you are meeting on a lap-top, keep your phone turned off for the session. Keep the television, radio, and other devices off. Make sure your kids have an activity to keep them busy, in order to minimize interruptions.
Consider utilizing a journal. You can keep a journal and share insights/questions and other thoughts with your therapist that you thought of throughout the week.
https://help.doxy.me/en/articles/95861-five-tips-for-a-great-experience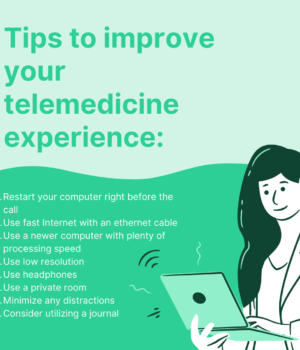 Schedule a Free Consultation
Call us to schedule your free consultation.